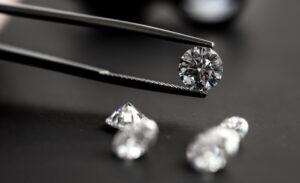 It seems counterintuitive to associate a trending concept in the world of fashion with a long-lasting product like a ring for an engagement ceremony. Why? Because fashion trends are regarded as fleeting, whereas engagement rings are associated with timelessness. Nevertheless, it is worth noting that personal tastes vary. You may consider something classic, even as someone else regards it as an out-of-vogue thing. Here, we will discuss some of the most expected trends for the springtime engagement season.
Oval-Shaped Diamond Engagement Rings
Jewelry industry experts expect oval-shaped diamonds to keep becoming more and more popular this year. There has been an increase in the oval-cut diamond count from 2015 to 2022, as per diamond industry insiders. People may like oval diamond rings, but we have a minor caveat to make for you regarding those jewelry pieces. The industry will set oval diamonds slightly differently in engagement jewelry, such as with east-west and non-solitaire designs.
Bezel-Set Diamond Rings
Another major engagement jewelry trend in 2022 is regarding the bezel diamond setting. It is possible to identify this form of setting through a metal encasing in the ring that overlaps the stone a bit, versus the more prevalent claw setting. The setting plays a part in a ring with a minimalist yet chunky look and feel. The setting holds the stone more securely, so it would be a good option for a person with an active lifestyle.
Trinity Gemstone Rings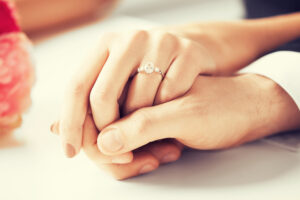 Industry insiders expect trinity rings to be a top trend in the engagement jewelry market this year as these are unique pieces that make for excellent conversation starters. For instance, the three-stone ring of Paris Hilton was among the most talked-about pieces of jewelry last year. Some industry insiders find it a new cultural moment, one that may impact the style decisions of some brides this year. Hilton has a stunning and timeless ring.
Engagement Jewelry With Yellow Diamonds
Is a colorless centerpiece yet to appeal to you? If not, do you fancy the notion of buying a statement piece with a diamond or two? If the answer to the second question is in the affirmative, you could consider yourself to be ahead of trends.
Yellow diamonds might not have been unpopular for a long time, but many customers demand these stones nowadays. Yellow diamonds suit people who seek a more unique engagement jewelry piece with a bang for the buck.