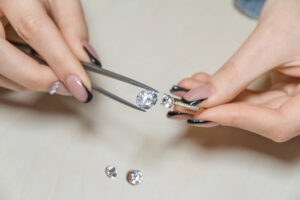 In your rigorous search for your perfect engagement ring, you may have come across Halo-setting rings. Halo diamond rings are pretty popular and widely used as engagement rings.
If you are looking to know more about the Halo setting engagement ring, you have reached the right place. Read ahead to know.
Halo Setting
The halo setting consists of a center diamond and many smaller diamonds surrounding the center diamond. The design accentuates the overall look of the diamond ring by giving an impression of a larger center stone and increased brilliance. The center diamond and the diamonds forming the halo can be of the same shape or different shapes. Halo provides an elegant beauty to the ring and clearly, it can be quite the perfect match for your life partner.
Any diamond shape can be used in a halo diamond ring, but the most popularly used shape is the round diamond.
Advantages Of A Halo Setting Ring
The halo setting is a perfect setting to complement your center stone. Due to the halo effect, an illusion of a larger center diamond happens which can be appealing to most buyers. You can also use other colored gemstones instead of diamonds in the halo of the ring. The halo of colored gemstones around the center diamond can help enhance the focus on the center diamond. You can customize the center diamond and accent stones according to your style until you are satisfied.
Larger carat-sized diamonds are much more expensive than small diamonds. By choosing a halo setting, you can save a lot of money. This is because the small diamonds that form the halo are comparatively less expensive. Even then if you have trouble with the price, you can go for lab-grown diamonds. They cost considerably less than a natural diamond of very similar quality grades.
Caring For A Halo Diamond Ring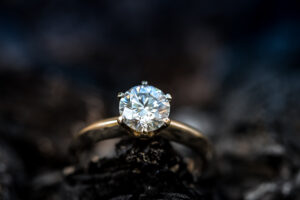 If you own a halo diamond ring, you should be very careful. The small diamonds in the halo can come loose if the ring is carelessly used.
For removing dust and dirt from your halo ring, you can use dishwashing soap along with warm water. After washing, you may use a microfiber cloth to wipe the ring or you can let it air dry. Also, it is better to go to a jeweler twice a year for deep cleaning of the ring and perform any maintenance if required.