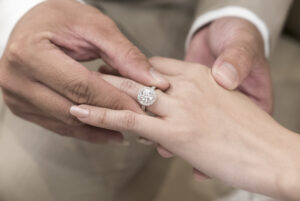 Wedding bands are available with or without jewels. Because they may provide a neutral aesthetic, diamonds have become the most preferred gemstone for wedding bands. To secure diamonds and other gemstones to the band, various settings are used. Different settings can produce a very wide range of looks. Because of this, finding the best setting for you requires knowledge of many settings.
Below shared are some of the ideal band settings for your wedding band:
Pave Setting
One of the most popular choices for diamond rings is the pave setting. Typically, tiny prongs are used to secure the stones to the ring. As a result, this option can improve your stone's visibility. Additionally, it makes it possible for light to shine through the accent stones that are put within the band, enhancing its glitter. So, if you desire your wedding band to stand out, this could be a great alternative for you.
You should, however, take your band's security into account when making this decision. The danger of losing your diamonds is considerable because this setting only uses tiny prongs to hold the stones in place, and you could not immediately notice a broken or loose prong. As a result, this setting may not be the greatest choice for you if you frequently use your hands in activities.
Bar Setting
To hold the gemstones in place, this setting uses a metal bar. A geometric pattern is produced on the band by these bars. The stones are better secured by the bar setting's protection of them from all sides. When you wear the stones every day, the rectangular bar around them can shield them from bumps and hits.
The gemstones' size can be reduced by this setting, though. Furthermore, bar-set wedding bands will shine less brilliantly than pave rings.
Bezel Setting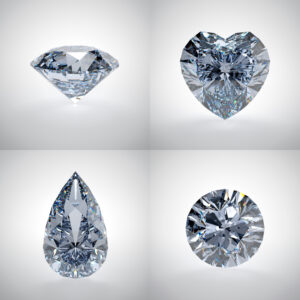 Each stone in a bezel setting is surrounded by metal, which keeps them apart from one another. For those who want their wedding bands to be more securely stored, it may be the ideal solution. However, the diamonds may appear smaller and lose some of their brightness in this arrangement.
Flush Setting
In this setting, the stones will be flush-set inside the band. With this arrangement, it is quite rare that the stones will come off the band, and they can be shielded from all sides, preventing any bumps and knocks.
Diamond-encrusted wedding bands can be expensive. To make your wedding band more economical, you might go for lab-grown diamonds or diamond imitators.