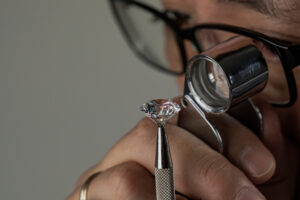 A lot of ring settings feature accent stones that can enhance the appeal, brilliance, and size of engagement rings. Accent stones are small diamonds that often come with simpler cuts. The carat size of accent stones can be very low in comparison with the center diamond that you usually use in your rings. The carat weight of these petite stones can range from 0.001 carats to 0.25 carats. Because of the lower carat weights, these stones can be highly affordable.
Uses Of Accent Stones
Accent stones are often added to pieces of jewelry including engagement rings to enhance the size of the center stone. If you cannot afford a bigger center stone, you can choose to add a layer of accents surrounding your smaller center stone to give it a larger appearance.
The cost of accents can be very low in comparison with bigger diamonds. Hence, by choosing to include accents in your diamond ring, you can get a bigger engagement ring for much more affordable rates.
Accents can also enhance the appeal of your ring by adding an extravagant look. These small stones can be set around your center stone or embedded on the band of your ring to give it a luxurious appeal.
Additionally, diamond accents can enhance the brilliance and sparkle of your center diamond. The combined sparkle created by these stones can provide your engagement ring with an extra shine.
Ring Settings That Come With Accents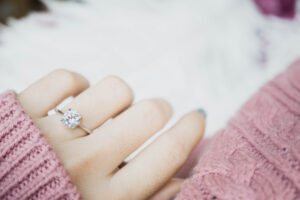 There is a wide variety of ring settings that come with accent stones. Some of them include:
Halo Setting: This is one of the most popular engagement ring settings that is known for its spectacular looks and extra sparkle. It includes one or more layers of accent stones surrounding the center diamond thereby adding more volume and size to the ring.
Pave Setting: Pave setting features small accent stones set on the band of the ring. This setting offers a rich sparkle and brilliance to your engagement ring. You can combine pave settings with other ring settings to offer them an extravagant look.
Channel Setting: This setting also comes with small stones set on the ring's band. Here, the stones will be set between two metal strips. In a channel-set ring, the stones can run around the entire circumference of the ring.
Even though accent stones are not necessary for your engagement rings, they can make your rings more appealing. They can also make your ring appear bigger along with enhancing its overall shine and brilliance.